Resident Living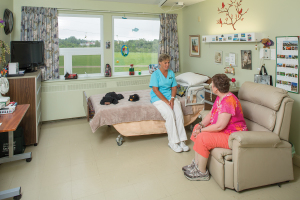 The Home consists of three units on two levels:
Beausejour unit – 28 residents
Fundy unit – 43 residents
Chignecto unit – 47 residents
Each unit has:
A centrally located nurses station
Multipurpose areas/lounges
A kitchen and dining room.
A resident is encouraged to bring personal items to provide a homelike environment for their room e.g. television, radio, pictures, afghans, etc.
Every effort is made to ensure residents feel comfortable in their own space, and have many opportunities to take part in social activities if they choose too. Adult and youth volunteers are involved in many aspects of programming, e.g. visitation, regular activities and special entertainment.
Pastoral care services are available from clergy of all denominations on a volunteer basis, who provide visitation, sacraments, counseling services, and Sunday services.
Visiting hours at the nursing home are not restricted, and visitor and handicapped parking areas are available.
With notice, families and visitors are welcome to dine with residents at a guest table. Special family events, such as birthday and anniversary celebrations, may be arranged through the food service manager on a fee-for-service basis.
Several lounge areas are available throughout the building for resident activities, and the living room (Parsons Lounge) is available for private family visits.